Methodbook for Gypsyjazz-Guitar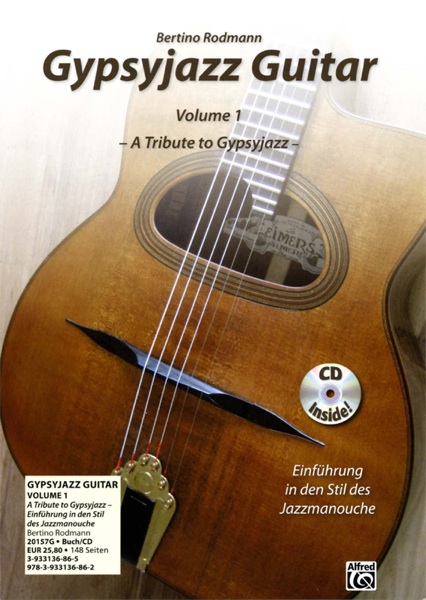 The already previewed methodbook "Gypsyjazz Guitar" has now been released in 2012 with the wolrdwide distributor "
Alfred Music Publishing
" (Cologne) and is available by now.
Gypsyjazz or Jazzmanouche is the first unique Jazzstyle created in Europe. The origins of this style come from french Musette-Waltzes, hungarian Çsardas or the spanish Flamenco, as well as Sinti-Music itself, that has been mixed together and interpreted by Sinti-Musicians in pure Swing-Phrasing.
The new methodbook with 150 pages is ment to be a guitarschool that should lead into the style by understanding all aspects of it. It contains many images and explanations on the style, the used guitars, strings, picks as well as tipps & tricks by the author. Especially the understanding of the authentic way of playing and the respect for the old traditions of the Sintis is of importance to the author.
The book contains in all 7 tunes, as well as 2 original compositions of the author Bertino Rodmann, as 5 songs written by Django Reinhardt and the "
Quintette du Hot Club de France
" completely written in staff-Notations/Tabulaturen and many examples for Rhythm- and Soloplaying, all put down on an Audio-CD with Soundexamples of all exercises, songs plus Playalong-Tracks.
150 pages with Play-Alongs, staff & Tabulature, Price: 25,80 EUR incl. Audio-CD (+ delivery).
You may order the book on my Website
www.jazzmanouche.de
, at
Amazon.de
, or with
Alfred Verlag, Köln
as well as every good bookstore (ISBN-10: 3-933136-86-5).
Tags: gitarrenlehrer, gitarre, guitar, Gitarre lernen, Alexander B. Rodmann, Bertino, Bertino Rodmann, Gitarrenunterricht, News, Gypsyjazz