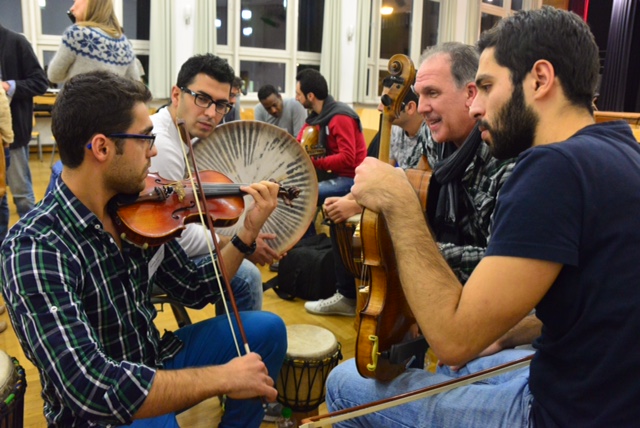 Due to an initiative of two young german ladies, Julia Huk and Isabella Kohls, in November 2015 a intercultural Musicproject called "bridges - Musik verbindet" was started.
Aim of the project is to play music together with refugees and german musicians. The basic idea is to take the power of music to integrate and help out people that had to flea from terror and hunger from their countries and had been stranded in germany. As well as to overcome differences and kearn ecach other to know.
In a first meeting groups of musicians have been created where the diffrenet nationalities of musicians will together work on certain musical pieces.
This work will end up in a concert played together at the Hall of the Hessischen Rundfunk in the Bertramstrasse 8, 60320 Frankfurt on april 19th 2016.
Entrance is free, but for donations will be asked. The concert is beein held for donations for the german "refugees help foundation".
I signed in for this initiative in december 2015 and i will take part on this concert on april 19th together with 2 syrian drummers, 1 iranian drummer, 1 irakian Oud-player and a german singer as an Ensemble.
After the great luck of buying a new SAGA Nylonstring-guitar Mod. Lulo Reinhardt (see News further down), i just had another opportunity to get into...
Sometimes life is playing strange things and sometimes life is giving you fortune ... so is with many things in life as well as with the guitars that you meet a s a guitarrist in your life.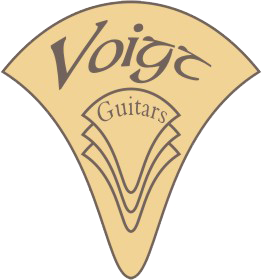 Meeting the guitarmaker
Matthias Voigt
from Leipzig on the last Django Memorial Festival in Augsburg in Mai 14 i have found my new dreamguitar!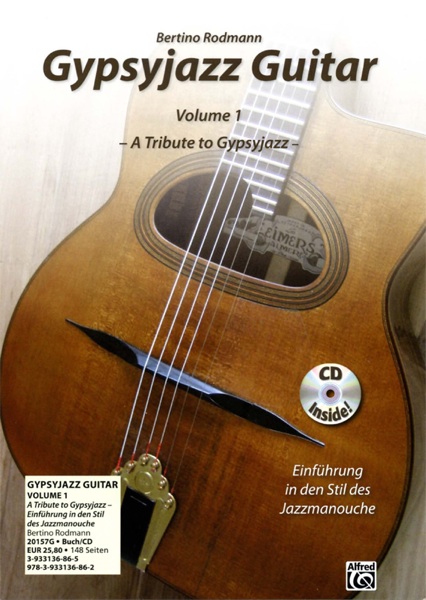 Due to the good sales of the second issue of the methodbook "
Gypsyjazz Guitar
" by Bertino Rodmann, the distributor
Alfred Music Publishing
decided to release the book in english as well.
The new english versionhas been presented on 25.04.2013 on the Musicfair in Frankfurtand is available since 01.05.2013. "
Gypsyjazz Guitar
" will now be sold in all english-speaking countries worldwide.
::: the Release of the new "EL Party X"-CD has to be canceled :::

Due to the sudden death of my father i had to cancel the announced release of the CD "Desperate Dreams". Taking care of all things after a death is timeconsuming, so there is no time for anything else. I urge my friends and fans to stay patient.

It will be announced when the CD will be released, so be suzre to take another look into my newsblog.
Thank you for your understanding!