Actually for sale i have two wonderfully handmade Gypsyjazz Guitars by Polak-Guitars from my collection.
These guitars "Model Bertino - Maple Series" and "Model Bertino - Eucalypt Series" were handmade by luthier Eduard Polak from Polak-Guitars (former ERG), crafted on my advice and consulting.
The specialty of these guitars aren´t only their look but especially their sound. Deeply inspired by original Busato-Guitars (more Infos on
www.jazzmanouche.de -> Busato-Guitars
) which were built in the 1930-50ies in Paris/France, these models have been crafted in collaboration with ERG-Guitars for me.
If you are interested ion one of the guitars dont hesitate to contact me. I am open forn any questions via eMail. Both instruments may be played at my place on negotiation for date.
Here some images and videos of these great guitars to see and to listen:
After the furious success of the "bridges - music unites" concert on April 19th at the Sendesaal of the Hessischen Rundfunk, the organizers decided to definately go on with this Project.

By personal reasons it was nessesary for a change of personal, in the Organisation. Now Johanna Dalhoff has taken over together with Isabella Kohls and will be taking care for artistical organisation.

Now bridges goes into round two!



The first rehearsals have begun and new exciting Ensembles have been formed, so that there will be more concerts within single Ensembles as well as grand Orchestra to be expected.

On 08th of May 2017 there will be the second big concert at the Sendesaal of Hessische Rundfunk. More dates are to follow.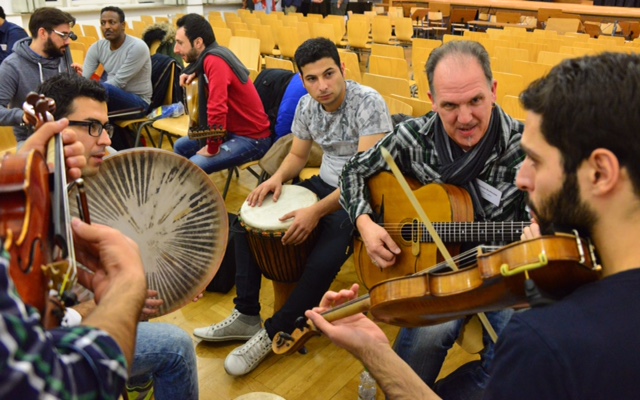 Since a couple of days it is possible to make Ticketreservations for the concert of the refugee´s project
http://www.bridges-musikverbindet.de/index.php/reservierung/
on april 19th 2016 at the Sendesaal of Hessische Rundfunk, Bertramstr. 8, 60320 Frankfurt.
The seats are limited, so hurry up to reserve your ticktes today. More Infos on the Project further down in the News and on the Homepage of the Project
http://www.bridges-musikverbindet.de
The Tickets for the concert on 19.04.2016 at the Sendesaal of Hessischen Rundfunk (HR3), Bertramstr. 8, 60320 Frankfurt, are all reserved. The concert is sold out. Spare tickets may be available at the entrance cashier about 19.30 p.m.
More Infos on the project in the News and on the Homepage of the Project
http://www.bridges-musikverbindet.de