Methodbook "Gypsyjazz Guitar"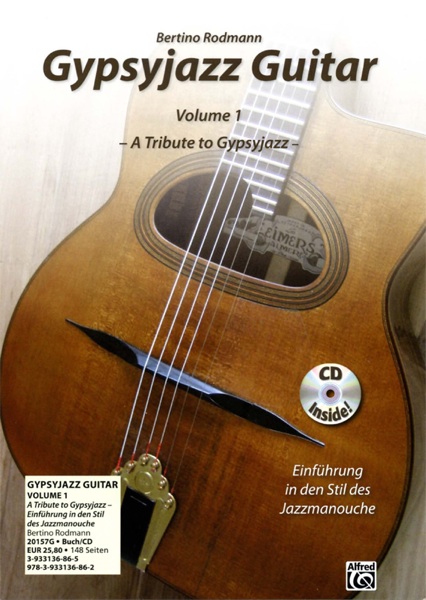 The issue of "Jazz-Manouche" (also called Gypsyjazz) is in my life for many decades, since the early 1980ies.
Way back then i received a record of Django Reinhardt and the "Quintette du Hotclub de France" by a friend. This record (a five-piece-Album by Edition 2001) left me behind flabbergasted listening to it, as i was so fascinated that i wanted to immediately learn how to play this kind of music.
Everything about it was so different: other scales, other chords, other melodies, other rhythms. Nothing of what i had collected on musical knowledge until then was fitting any more. I was, as i know today, like so many other guitarrists on our planet completely overwhealmed by the grace and virtuosity of the playing of Django Reinhardt.
These incredible melodies and play-techniques that this man played had to be possible to be learned...
Way back in the 80ies there was no Youtube, nor it had methodbooks of any kind in this style. So i began to learn this style like i had done it before ... just by listening to the records and autodidactically copy/pasting what i heared into my playing.
My own love for Gypsyjazz or Jazzmanouche (how it´s called in France where it came from) meanwhile is some years old. I like to tell you a bit about how i came to it.
My carreer as musician started in the early 1970ies with buying my first electrical guitar. In these days i tried to play all the stuff that was hip in this time like Blues (B.B. King, Muddy Waters, Howlin Wolf, Rory Gallagher) or Rockmusic (Led Zeppelin, Deep Purple, Santana, The Animals, Eric Clapton) and the more. After i had started to play in bands in 1973 soon also my style changed in my repertoire over the years: Pop, R&B, Soul, Dancemusic, electronica and other were added (also see my
musical miles
).
So i practised guitar obsessively for the first few years, often for about 6-8 hours daily. My big dream was to become a professional musician one day. After ten years of playing i already had collected quite some knowledge about music but his sound, the Jazz-Manouche or Gypsyjazz, was something else! Other chords, other melodies others rhythms - i had to start from scratch and learn the guitar completely new.
Just very few that i knew about music and music theory up to there was fitting into this style. But my compassion was raised and i really WANTED to learn this music so badly. And this way is still continuing until today.
I never thought that this music, sounding so easy and logical, may be so hard and challenging to play for a musician.
One could say that Gypsyjazz is the kings-class of guitarplaying!
Thru my own studies in the field of Gypsyjazz-Guitar i had learned a lot within the years. And i found out that there is a still growing amount of books, DVDs, CDs and the more on the subject of Gypsyjazz, and they seem to be more and more - even if arguing about their quality may not be so far away... But anyway, to find a methodbook in the style that briefly explains this music to an advanced player but beginner of this sound - i did not find any!
As with the time the request of students that wanted to learn Gypsyjazz-guitar were growing. To be able to teach some of what i know i have been reading a lot of these available books and as well participated in masterclasses with Romane in Lyon, Angelo DeBarre in France and Stochelo Rosenberg in Augsburg.
So i started to structure my own Masterclass and offer it, which now results in my workshop "Modular Gypsyjazz Guitar".
In the end these workshops that were starting half-annually since 2008 resulted in a methodbook called "
Gypsyjazz Guitar
" that was finally released in October 2011 with Alfred Music Publishing first only in german, as well as also in english worldwide in autumn 2013.
Here you may
read more on the book
or you may also
order it directly here
.